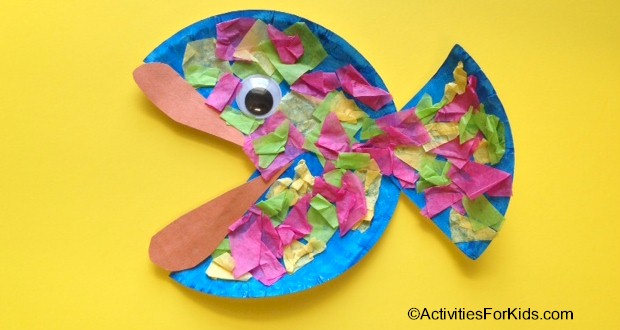 There are lots of lesson plans where you can incorporate this cute paper plate fish activity. Great for bible study and VBS Vacation Bible School. Tell a story or read a scripture relating to the sea or catching fish. Children can decorate the fish in a multitude of ways; crayons, paints, glitter paint and so on. These colorful fish are a cute way to decorate a classroom bulletin board or add a magnet to the back for the children to take home for their refrigerator.
MATERIALS:
White paper plate – any size will do
Craft glue
Scraps of colorful tissue paper
Paints or markers
Google eyes
Scissors
INSTRUCTIONS:
Paint the paper plate and let it dry completely
Cut a 1/4 section from the paper plate. This is a good math lesson for older children that are learning about fractions.
Use a stapler, glue or tape to attach the tail to the end of the fish.
Have the children decorate the fish using glue and scrunched up bits of colorful tissue paper.
Add a large google eye.