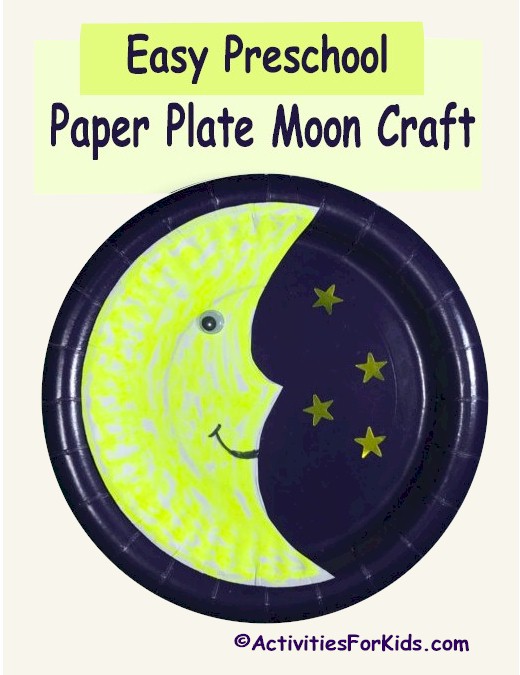 Here is a simple craft for toddlers and preschool children. While this craft is easy to put together, even for younger children, it is also inexpensive and can use supplies that you probabally already have in stock. When you are looking for a theme relating to the moon and stars or else looking for an activity to go along with a story (such as Goodnight Moon, Happy Birthday Moon).
For this moon and stars activity, I used two paper plates, one a plain white and one a bit larger in a dark color. In addition, you could also print out the man-in-the-moon template on yellow paper to be cut out direclty and used instead of the paper plate.
MATERIALS:
6" uncoated white paper plate
7" black or purple paper plate
White printer paper
Google eye
Gold star stickers
Scissors
Craft glue
Black marker
Yellow highlighter marker (fluorsecent if you can find one)
INSTRUCTIONS:
First, print out the Man in the Moon template on white printer paper. This template is to be used with a 6" paper plate. If you are using a different sized plate, either modify the template or draw your own for students to copy.
Next, cut out the template. Either each child can have their own template or one can be used for a group by taking turns tracing the face.
Trace the Man in the Moon template onto the smaller white paper plate and cut it out.
Children can have the option of using a yellow highlighter, as shown in this example, to completely color in the moon or use a yellow crayon.
With the black marker draw a mouth on the moon and add a google eye. Omit the google eye if you are making a sleeping man-in-the-moon.
Finnally, glue the moon in place on the larger paper plate and add a few gold star stickers to complete the project.