This is a super easy – and inexpensive fun craft for kids to make. Use colorful paper to create small and large mice. Use printer paper to print them out then either trace onto construction paper of just use the colored printer paper. This paper mouse cone is a fun craft to go along with your favorite book about mice, like my favorite, "If You Give A Mouse A cookie". Also use these little fur-less creatures for the Year of the Rat (Mouse) for a Chinese New Year craft.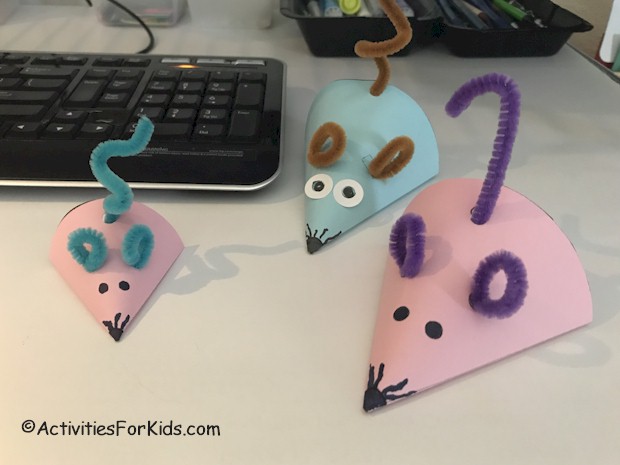 What You Will Need
How To Make A Paper Mouse Cone
Print out the Printable Mouse Pattern A (prints 2 large mice) or Printable Mouse Pattern B (prints 1 large, 1 small mouse) on either white or colored printer paper. If the pattern is printed on the white paper, then cut out and trace it onto colorful construction construction paper.
To add eyes for the mouse, use either google eyes or color in with a black marker. White hole reinforcements can also be added for the eyes as shown.
Punch holes for the ears and tail where shown. Or, use paper ears which are included on the printouts and glue them on where indicated.
Take about a 2″ section of a chenille stem for each of the ears, curl it to make a loop and then twist the ends together. Insert the twisted ends into the punched hole and bend them in place. Secure the twisted end with a piece of tape.
Curl the paper so that a cone is formed by joining the two flat sides. Overlap the ends slightly and tape them together.
Take the last section of chenille stem and make a tail for the mouse, by taping it in place at the base of the paper mouse cone.
Did you like this printable activity for kids? For more ideas be sure to follow us on Twitter, Facebook and Pinterest