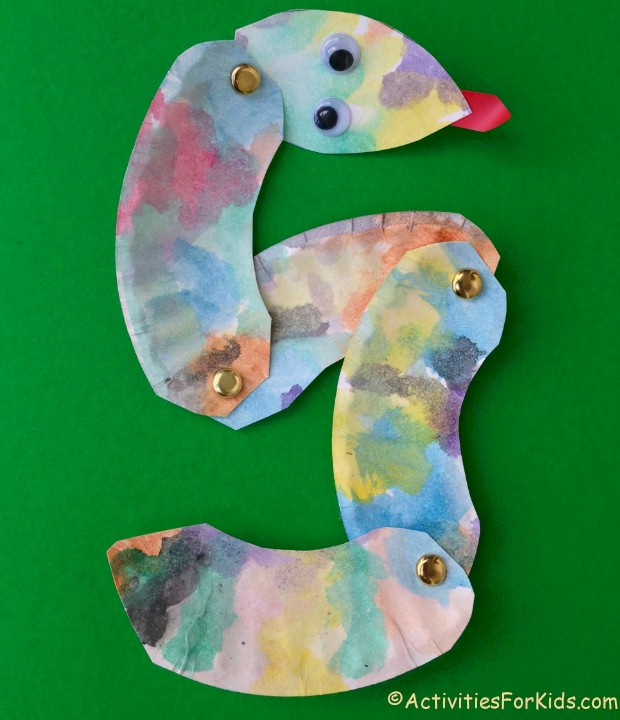 Create a wiggle snake from a paper plate and a couple of paper fasteners. Children can be creative decorating their snake- in this example dabs of water color paints mingled together to create a mottled pastel design.  By using the outer edges of the paper plate, the snake has a little more texture that if just regular card-stock paper is used.
MATERIALS:
Scissors
Paper plate
Google eyes
Craft glue
Small piece of red ribbon
4 Paper fasteners (brads)
Hole punch
Paints, markers and other items to decorate the snake with.
Snake head pattern
(Please read our terms & conditions before downloading, thank you!)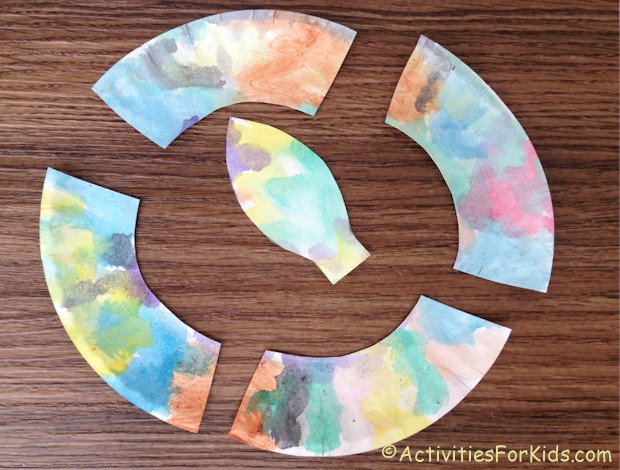 INSTRUCTIONS:
Decorate the top of a paper plate with paints or markers. Use a pattern or random design.
Cut out the inside circle of the plate as shown above and cut the outer circle into 4 sections.
Cut out the snake's head from the center part of the paper plate.
Slightly round each of the 4 pieces of the snake's body. On one of the sections, snip the end for a pointed tail.
Punch a hole near the ends of the sections as show – with only one hole punch for the head and one for the tail.
Use the paper fasteners to attach the sections, so that opposite curves are connected (to form a bit of an S shape).
Attach the google eyes and small snip of red ribbon to the head.