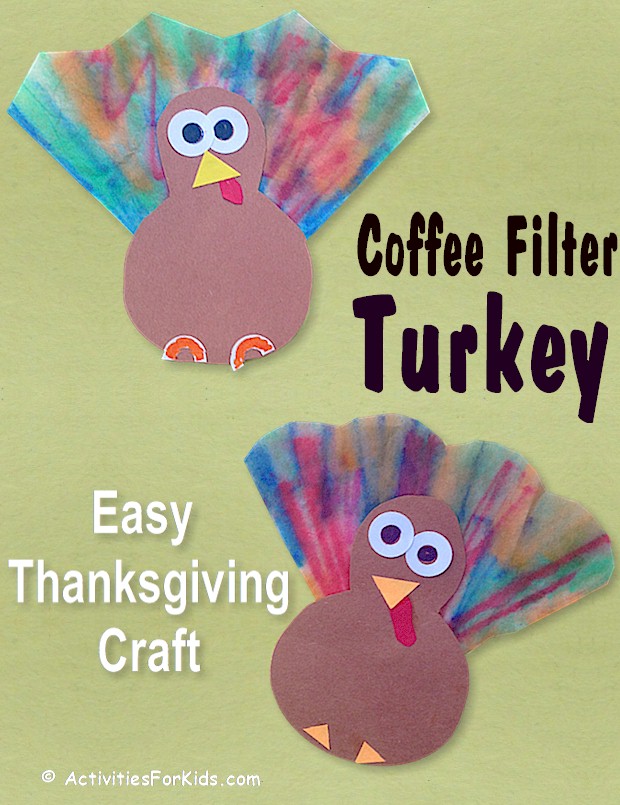 Easy and inexpensive Thanksgiving Turkey Craft for Kids.  Holiday Thanksgiving coffee filter Turkey is a great group or classroom craft.  Pre-cut the coffee filters into 1/4 sections for each child to make one turkey.  Use brown construction paper or a brown paper bag for the turkey's body.  Apply a magnet for a refrigerator decoration or to decorate a classroom bulletin board.
MATERIALS:
Brown construction paper or brown paper bag
Small scraps of construction paper for the beak and gobbler (yellow and red)
Coffee filter – 1/4 per turkey
2-white paper hole protectors
Black marker
Washable markers
Craft glue
Coffee filter
Scissors
Small magnets
White printer paper
Turkey Template – 6 will print per page.
INSTRUCTIONS:
Cut each coffee filter into quarters (adults)
Fold the 1/4 coffee filter in half then half again then with scissors trim the edge to either a rounded shape or pinted shape.
Unfold the coffee filter and place on newspaper to decorate with the washable markers.
Once colored in, spritz with the water until the colors run together. Set aside and allow time to dry.
Print out and then cut out the Turkey Template.
Trace the turkey template on to the brown construction paper or paper bag and cut out.
Decorate the face of the turkey with a beak and gobbler cut from the construction paper scraps.
Use the 2 white hole protectors as eyes and fill in the circle with the black marker.
Use either another hole protector (cut in half and colored orange) or triangles of orange paper for the turkey's feet.
Glue the 1/4 section of colored and dried coffee filter to the back of the turkey.