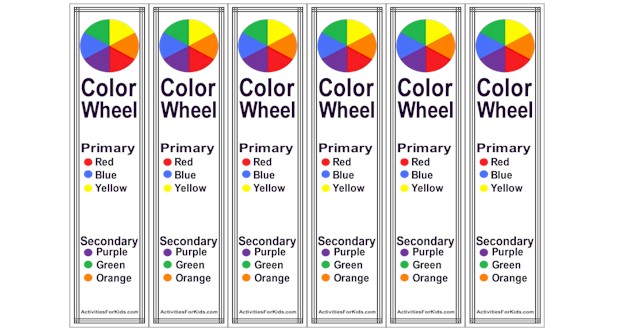 Full color
Printable Color Wheel Bookmarks
are an easy printable to add to the class curriculum when learning about the Primary and Secondary colors that make up the color wheel.
Having a spelling test with the primary and secondary colors? Print these bookmarks out for the class as a learning tool.
Just select the option below to print the Bookmarks. For best results use white card stock paper for printing. Color Wheel bookmarks will print 6 per page.
INSTRUCTIONS:
Click on the Printable Color Wheel Bookmarks link and then select your browser's print option. Print as many as you need for your students.
Cut the six bookmarks apart on the gray line.
SUGGESTIONS:
Be sure to check out the classroom Color Wheel printout and lesson.
Need other bookmarks for your classroom? Be sure to check out the list of ready-made Themed Bookmarks from Activities for Kids. Another option is to Create custom bookmarks where you can select an image and enter in your own text or spelling words for your classroom lesson.