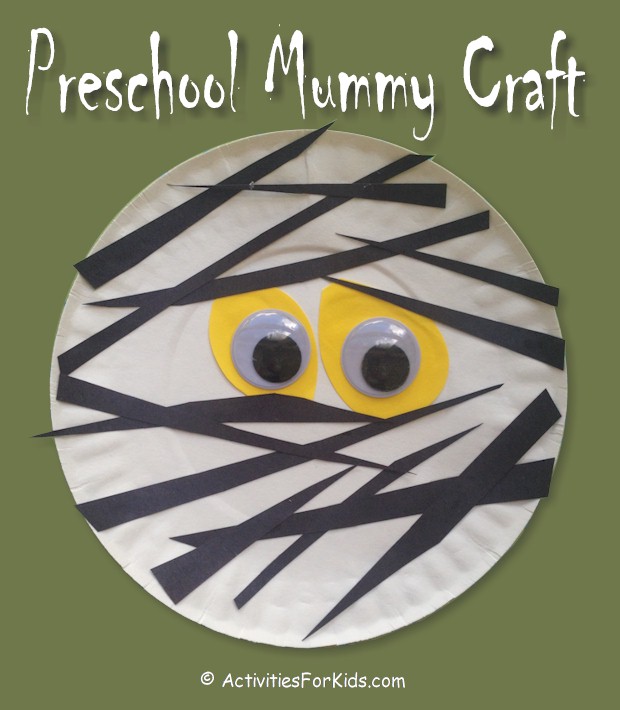 It's the end of the school day and there are still a few minutes until the school bell rings. Why not fill in the extra time with this easy to put together Halloween craft. Save time by having the materials already to go, that way, kids can put a fun seasonal paper plate mummy together in about 5 minutes. This super-simple, very low-cost preschool mummy craft is a bit of a reversal of the traditional mummy. Instead of layering white fabric/tape/paint over the dark mummy form, use strips of black paper on the white paper plate to give the illusion of the mummy wraps. I used small 6-inch plates,
but larger paper plates will also work well for this Halloween mummy craft.
MATERIALS:
Small white paper plate
Scraps of black paper
Yellow paper
Google eyes
Scissors
Craft glue
INSTRUCTIONS:
To get started, flatten out the paper plate by rolling the edges over a book or the edge of a desk.
Cut out two circles from the yellow paper. No template is needed just free form an oval, circle or just about any shape you choose – even mismatched shapes will do.
Glue the yellow circles in place on the paper plate, then glue the google eyes on top of the yellow paper.
Cut out thin strips of black paper and glue them down in an angled fashion around the plate.