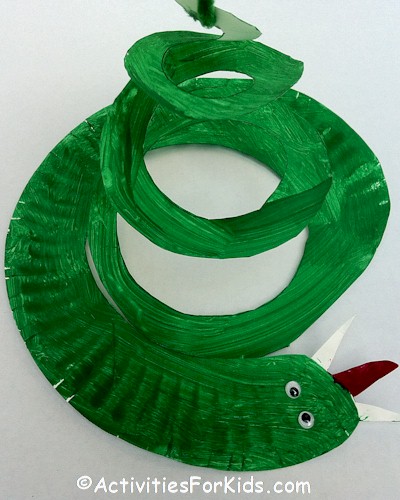 This is a simple craft that can keep the kids occupied on a rainy day. Very inexpensive and the kids can be as creative as they like. The head of the snake can either start from the outer edge of the paper plate or end on the inside. Color with paints or markers – decorate with glitter or sequins. A good craft to celebrate St. Patrick's Day as well as a Vacation Bible School unit study or Adam and Eve.
MATERIALS:
Scissors
Paper plate
Google eyes
Craft glue
Paints, markers and other items to decorate the snake with.
INSTRUCTIONS:
Decorate the top of a paper plate. In this example, a section of the plate was first cut out for the tongue and teeth and the rest was painted green.
Once dry, cut the snake out in a spiral design until you reach the center. The head can either be on the outer edge of the plate or in the center.
Cut out fangs and a tongue. Paint the tongue red and leave the fangs white. When dry, glue in place.
Add a dot of glue for the eyes and secure the google eyes in place.