Hooray! Another use for that outdated stack of CD's in your office. A fun and seasonal activity for toddlers and preschool children, CD Butterfly Craft. What no silver, CD disks in your crafting stash? No problem. A circle of tin foil glued to light-weight cardboard will do just as well. Find more Easy Butterfly Crafts for Kids.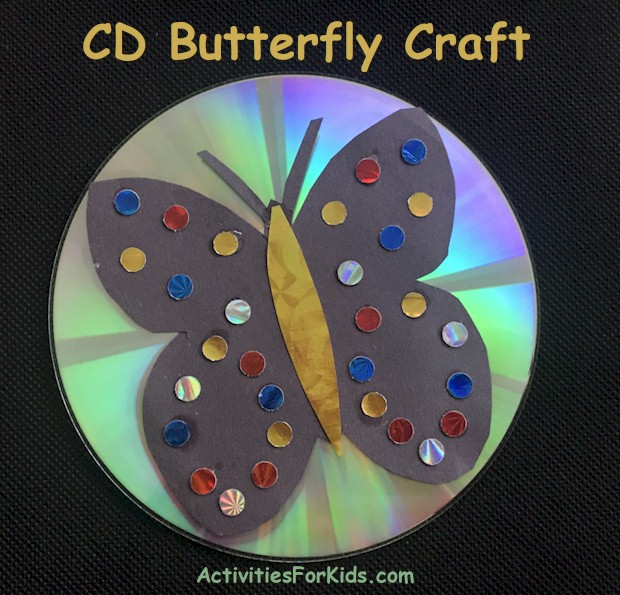 For this CD Butterfly Craft, I used a standard computer CD and a printed butterfly. Use any color you wish for the butterfly and any sort of decorations, including sequins, crayons and markers. For this image, I used black construction paper paper for the butterflies and holograph paper for the hole-punched circles and butterfly body.
Materials Needed
Computer CD that is no longer needed
Black construction paper
Hologram paper in different colors
Scissors
Craft glue
Hole punch
Magnet (optional)
Printer paper
How to Make a CD Butterfly
First, print out the Butterfly template on the printer paper and cut out. This can either be printed on white or a color of printer paper. For this example, I printed the butterfly out on white paper then traced the outline on black construction paper.
Next, punch out holes in the hologram paper saving the punched out circles to decorate the butterfly. Using drops of glue, attach the punched circles to the butterfly. Since I was using black paper for the butterfly, I also cut a section of the gold hologram paper for the butterfly body.
Once the glue dries, put a very light lay of glue on the center of the CD around the center circle. Be sure to do this on the shiny side of the CD. Then attach the paper butterfly to the center of the CD and let dry.
Add a magnet to the back of the CD with the craft glue for a completed CD Butterfly Craft.
If you liked this Seasonal Craft, please 'Like' Activities for Kids on Facebook and stay up -to-date on all the printables and activities for children. For more ideas be sure to follow us on Twitter and Pinterest.