Teach impressionism art with this free form style artwork project that is easy enough for younger children. Using different colors of plastic binder sheets to create overlapping designs and whirls of color. No two masterpieces will be alike. Either use a prop for children to copy or let them use their imagination.
Learn more about
Impressionism Art
and the artists that contributed to this modern movement in painting.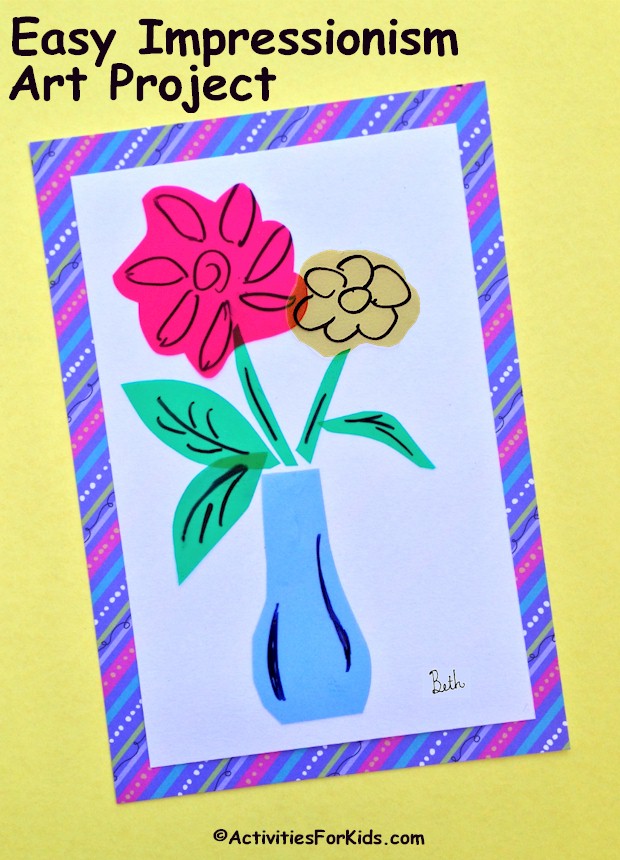 Materials Needed:
White card-stock paper cut in half
Decorative card-stock paper for matting
Plastic binder sheets – I purchased a pack of 8 from the Dollar Tree
Black permanent marker – thin tip
Glue stick
Scissors
Impressionism Art Project Instructions:
Give each child 1/2 sheet of the white card-stock paper and several scraps of different colors of the binder sheets
Have the children cut apart shapes to represent the items they wish to use for their artwork.
Using the black permanent marker, draw a more detailed representation of the item. If a mistake is made, the marker can easily be erased with a little rubbing alcohol.
Once the design has been drawn to the child's liking, use small dabs from the glue stick and put the images in place. Note: I tried using regular craft glue, but it shows through the plastic.
Don't forget to have the children sign their artwork!
Attach an optional backing to the artwork for a frame.
Did you like this art project? Find more impressionism art projects for your classroom.
If you liked this Impressionism Art Project, please 'Like' Activities for Kids on Facebook and stay up -to-date on all the printables and activities for children. For more ideas be sure to follow us on Twitter and Pinterest.