Today's spring-time activity is to create a beautiful stained glass butterfly made with permanent markers and plastic notebook divider sheets. Use the provided butterfly template or draw your own design. Younger children may need help tracing and cutting out the butterfly, but will enjoy decorating its wings with creative and colorful designs. See more Easy Butterfly Crafts for Kids.
Stained Glass Butterfly – What You Will Need
Notebook plastic divider sheets. I used yellow and blue binder sheets purchased from the Dollar Tree (multi-color and comes 8 per pack)
Black permanent marker
Additional colors of permanent markers
Glitter glue
Scissors
Tape – to attach to a window
Printer paper (for the butterfly template)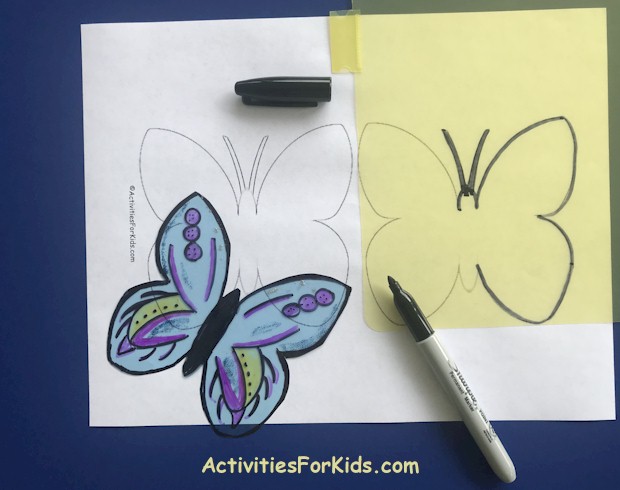 Butterfly Directions
First, print out the Butterfly template on white printer paper. Since two butterflies will print per page, you can cut the paper in half for two children to use, but do not cut the paper butterfly out.
Place the printed copy behind the translucent plastic divider sheet. With a black permanent marker, trace the outline of the butterfly onto the clear divider sheet.
Note: For one butterfly, I added the antenna, the other I did not. Encourage children to move the pattern to the corner of the plastic – rather than cutting it out of the center – so that the plastic sheets can be saved and used for other crafting projects 🙂
Carefully cut out the butterfly from the divider sheet. Younger children might need help tracing and cutting the butterfly out.
Decorate the butterfly using other colors of permanent markers and glitter glue. Then color in the butterfly body with the black marker.
Add a bit of rolled tape to the back of the butterfly and attach to a glass window, door or mirror as a lovely decoration.
Note: If a mistake is made, it is easy to start over by cleaning the plastic with rubbing alcohol (adults only).
If you found this free printable useful, please 'Like' Activities for Kids on Facebook and stay up -to-date on all the printables and activities for children. For more ideas be sure to follow us on Twitter and Pinterest.