Parents coming to classroom open house will love this bundle of school papers from their child. This custom printout was originally designed for napkin rings for Kids. Since it can be modified to have two lines of custom text along with a picture, it is easy to modify to make a personalized band for classroom handouts.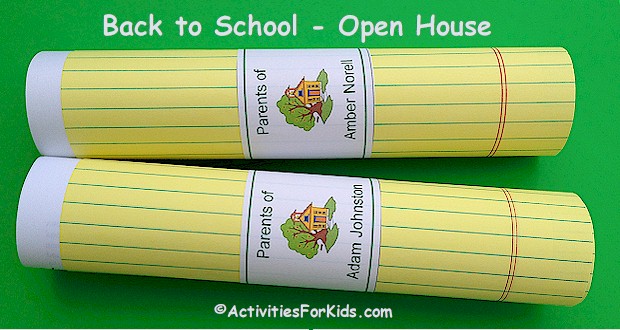 Select a school house theme add a greeting along with each student's name. Gather papers from the students or other important papers that you want the parents to have. Roll the papers together and slide through the ring. This is an easy project for students to help their teacher with. The full color, free printout will print 4 bands per page. It is best to use white paper for the text and images to be displayed better.
How to Create the Custom Paper Band:
Go to the Custom Napkin Rings for Kids page and follow the online instructions. In the example above, I used 'Parents of' on the top line of each band and then added each child's name on the second line.
Four bands will print on each page. You can use regular printer paper or card stock paper. While it isn't necessary to use card stock paper, it will be a little more durable to slide on and off the collection of classroom papers.
After you print the custom form, simply cut them apart as shown with a snip on each end to reattach as a circle. A suggestion would be to secure the band by attaching a small piece of tape to the back of each band, roll the child's papers and then slide into the band.
Also see:
Classroom Bookmarks, Bible Bookmarks and Holiday Bookmarks.
Follow Us:
Did you like this printout? Share it Socially. For more ideas be sure to follow us on Twitter, Facebook and Pinterest.