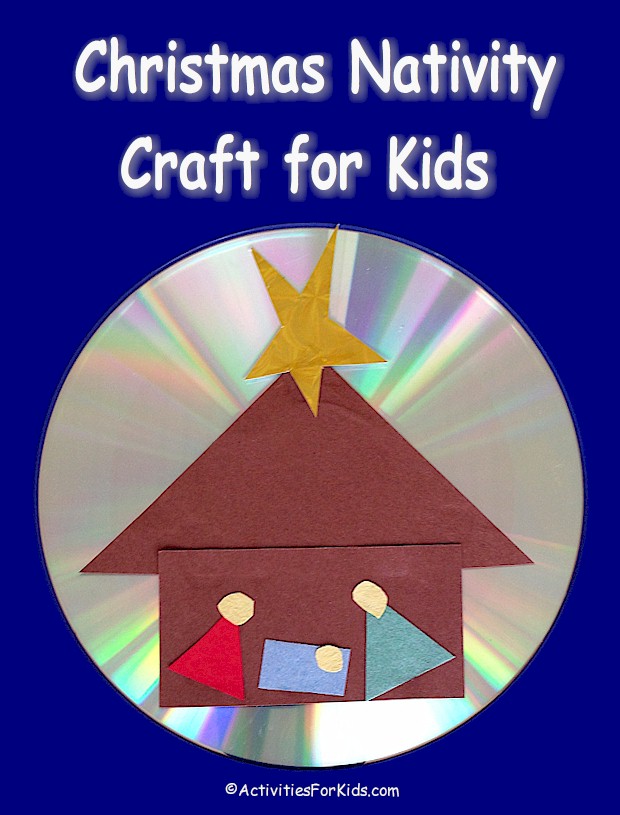 I love the way the CD shines in the light giving this easy holiday craft a lovely glow. This Christmas Nativity craft might be a little changeling as a pre-school craft, but older children should have no problem creating and cutting out the basic geometric shapes for the nativity scene.  Attach a magnet and use to decorate the refrigerator or attach a string to the back for a shining Christmas ornament.
MATERIALS:
Several colors of construction paper including brown for the stable.
Gold foil paper for the star
Recycled computer or music CD
Craft glue
Scissors
INSTRUCTIONS:
Start with the stable and cut out a rectangle (approximately 2.5″ by 1.5″) and a triangle for the roof (approximately 4″ by 2″ high) out of the brown construction paper. The stable needs to be large enough to cover the center hole on the CD.
Glue the two parts of the stable on to the shiny side of the CD.
Cut 2 triangles out of different colors of construction paper for Mary and Joseph.
Cut out a small rectangle (approx. 3/4″ by 1/5″) for the manger.
Cut out 3 small circles for Mary, Joseph and Jesus.
Glue these pieces in place as shown.
Cut out a free-form star from the gold foil paper and glue to the top of the stable. I used a leftover gold foil bag from the Dollar Store.
Tips: If any excess glue gets on the CD, just wipe away with a Q-tip dipped in rubbing alcohol.
Save