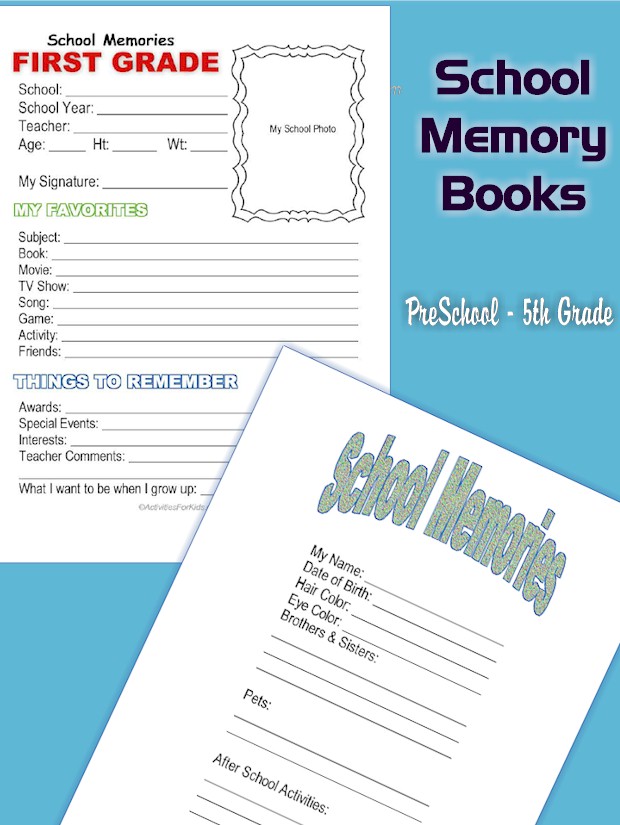 When my children were young I purchased school memory books for them. Now that they are grown up, it brings back fun memories for all us us when we flip through the treasured books of their days in elementary school.
So to help out today's busy parents, I've put together a printable school memory book that you can use for your children.
Capture these precious times by taking a few minutes to jot down some of the things that are important to your child during this stage of their life. The memories may be fresh today, but trust me, when they are older this little booklet will be worth it's weight in gold as you share with them some of their witty, fun and creative ways as a child.
There is a different page to print for each year of school starting with Preschool and continuing through to Fifth Grade. At the beginning of the school year, fill in the basic school information, school year and your child's teacher. Keep track of your child's growth by including their height and weight.
Printable School Memory Book:
Things to Remember can include sports awards, special events (church, family or classroom). Add encouraging comments made by the teacher about your child. Talk to your children about what they might like to do as an adult. On my son's School Memory Book preschool page he insisted on being Pooh Bear when he grew up:)
INSTRUCTIONS:
Easy to print out and assemble. In addition to the pages for Preschool through Fifth Grade, there are a few different options for the title page.
SUGGESTIONS:
Print the pages on pastel color paper for a little more flair.
Pages can be organized in a simple school folder – try to find one with a clear plastic front so that the title page is visible. Another option is to use a 1″ three ring binder (be sure to use hole reinforces on the pages). That way it is easy to add special papers and awards throughout the year.