Free printable Homework Pass for your classroom. Give to students for a job well done that can then be used in place of one homework assignment.
Kids will love the fun alien images. Teachers can sign the homework pass and hand out to students as a reward for good behavior or a job well done!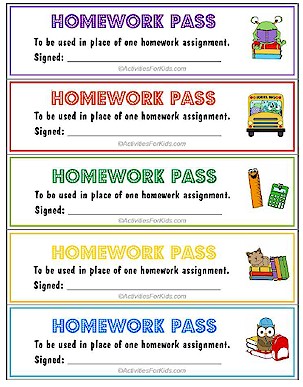 Five different designs are used on each page of the homework passes. Print as many pages as you need for your students. These cute designs are great to use for elementary aged students.
Simply select the Homework Pass link and once the PDF document appears, select the print option and the number of pages you would like to print. The designs and text show up the best when using plain white printer paper. Cut the passes apart on the gray line, sign and hand out to your students for a special occasion.
Want something more specific for just your class?
Select the New Custom Homework Pass where you can create unique Homework Coupon for your students by adding an image and 6 lines of text.  The Homework coupons will print 4 per page.
Follow Us: 
Did you like this printout? Share it Socially. For more ideas be sure to follow
us on Twitter, Facebook and Pinterest.
Suggestions:
Teachers, be sure to check out the Personalized Bookmarks Pages for Kids and other Back to School printables and activities for children.
Also see:
Classroom Bookmarks and Handouts for Open House.