Doing homework is probably not your child's favorite task. When kids don't like doing something, they can usually find a million excuses why they can't do it. By providing an organized portable homework station for your child, you'll eliminate some of those excuses saving everyone time and grief. No more; 'I need scissors', 'where are the crayons', 'has anyone seen my ruler?'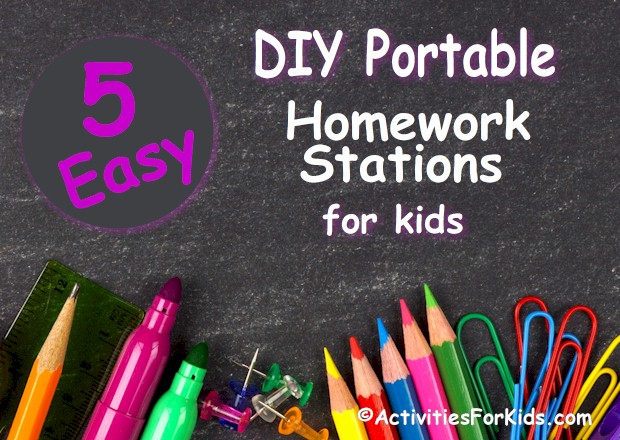 Mobile Homework Station
Don't have a designated homework desk? No problem, most children tend to do their homework at the kitchen table anyway. Keep all items handy in a roll card from Ikea. When the work is done, just roll out of sight. No Ikea in your area? Check out this inexpensive rolling cart from Amazon.
Homework Study Station
Keep the kids focused with this portable tri-fold, DIY Homework Station. Pop it up anywhere for instant privacy when shared space is your only option. With thicker foam board kids can also attach calendar pages, spelling lists and other papers they might need. Find the tri-fold foam board at your local Dollar Store.
Homework Station Binder
Talk about the ultimate, on-the-go, homework station! Keep the basics in a binder. Pencil pouches designed for binders are great for holding glue sticks, staplers and such.
Work Caddy
Use this handy Shower Caddy from Sterilite to keep all the basics in one handy tote. Include markers, scissors, pencils and sharpener, calculator, ruler, glue and any other supplies that your child needs on a daily basis.
School / Craft Supply Organization
Perhaps your child doesn't need all supplies all the time? For under $15 you can pick up two of these plastic shoe organizers from Amazon. Use one to transform the back of any door into a complete, everything in one spot, organized school supply station. For more efficiency, label each of the pockets and supplies will have a better chance of returning to their correct 'home'. Transparent pockets work best and in my own personal experience, I've even used cans, jars and bottles so that all colored pencils or all markers can be taken out at one time, remain together then returned together.
Back to School can be an exciting time for children. Most classrooms have a handout of needed school supplies. In addition to the classroom list, here are some items you may want to include in your child's portable homework station:
scissors
ruler
stapler
3 hole punch
craft glue
glue stick
tape
calculator
pens
pencils
pencil sharpener
colored pencils
markers
highlighters
construction paper
loose leaf paper