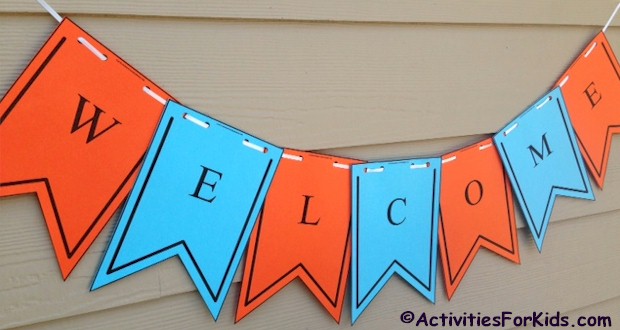 The first day of school, greet your students with a personalized Welcome Banner.Use a combination of printer paper for your school's colors (Go Gators!). There are several different formats to use and different color combinations that can be selected.
For this example, I used orange and blue printer paper, and selected the standard banner format with the black font color using just the words 'WELCOME'.
You can print out as many pages as you like, make the banner larger by adding the Teacher's name or the Grade "WELCOME TO 1ST GRADE". Select any letters and fonts that you choose to create your own personalized classroom greeting from the Custom Banners Page.
INSTRUCTIONS:
Go to the Custom Banners Page and follow the online instructions for each banner letter – to create the banner in this example, see the print screen below for selections that I used.
Cut along the outer black line with scissors.
Use a hole punch to punch 4 holes in each banner where indicated.
String together with decorative ribbon.