How often do school lunches go uneaten due to fussy kids? Save yourself some time and aggravation by having your children help with their school lunch menu. Get started with this lunch menu printable to plan for the week what the daily menu will be. No more surprises or uneaten lunches!
Use one page per child per month or list a weeks worth of lunches on one page for several children. The top of the menu printable lists the options in different colors to coordinate with the lines inside of each block; pink for a snack, green for drinks, red for the main course, blue for veggie and/or fruits and yellow for treats. Use the color system to teach children about making a well balanced lunch.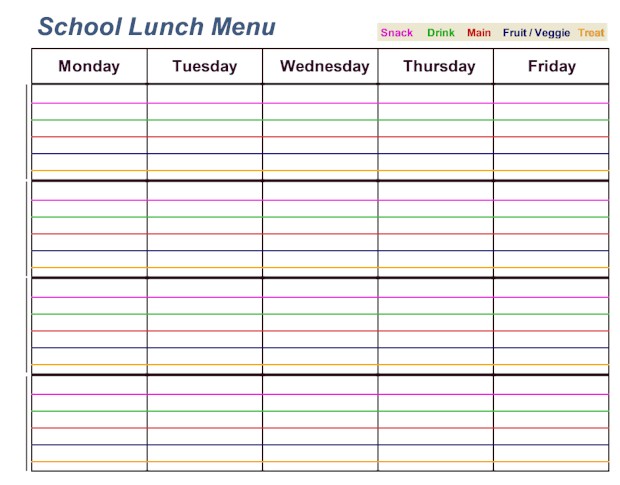 If you and your kids need a little motivation on putting together something different than the boring PB&J, check out this list of school lunch ideas.
Printable School Lunch Menu
Select the School Lunch Menu Printable which is available in an easy to print PDF format. Keep this printout in a handy spot in the kitchen to help with the grocery list as well as what goes into each lunch bag. A time saver for parents and happier kids. A win-win!
Give you kids an extra giggle with their lunch by including a back to school joke in with their lunch.