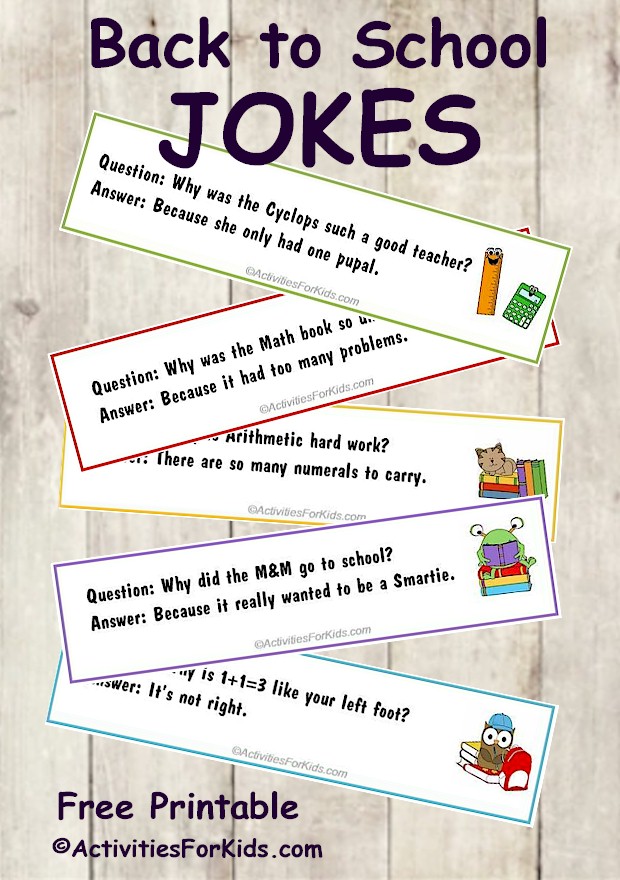 The first day of school can be a nerve-racking time for some children. Why not start the day off with a fun icebreaker for your classroom?
Printable, bookmark format, Back to School Jokes for kids.
Lighten up the day and add a little humor to the first day of school with printable bookmarks for kids. You'll find some of your favorite classic school jokes.
Each page prints five bookmarks with cute pictures and simple jokes for younger children. Four different pages can be printed for a total of 20 different jokes.
Children can share with friends or take home to their family.
INSTRUCTIONS:
Great way to ease in to the school year, a little light-hearted humor for kids.
School Jokes Page 1, Page 2, Page 3, Page 4. Select a page and print the pdf. Card stock paper works best but regular printer paper will also be fine to use.
Print the bookmarks and cut them apart on the gray line.