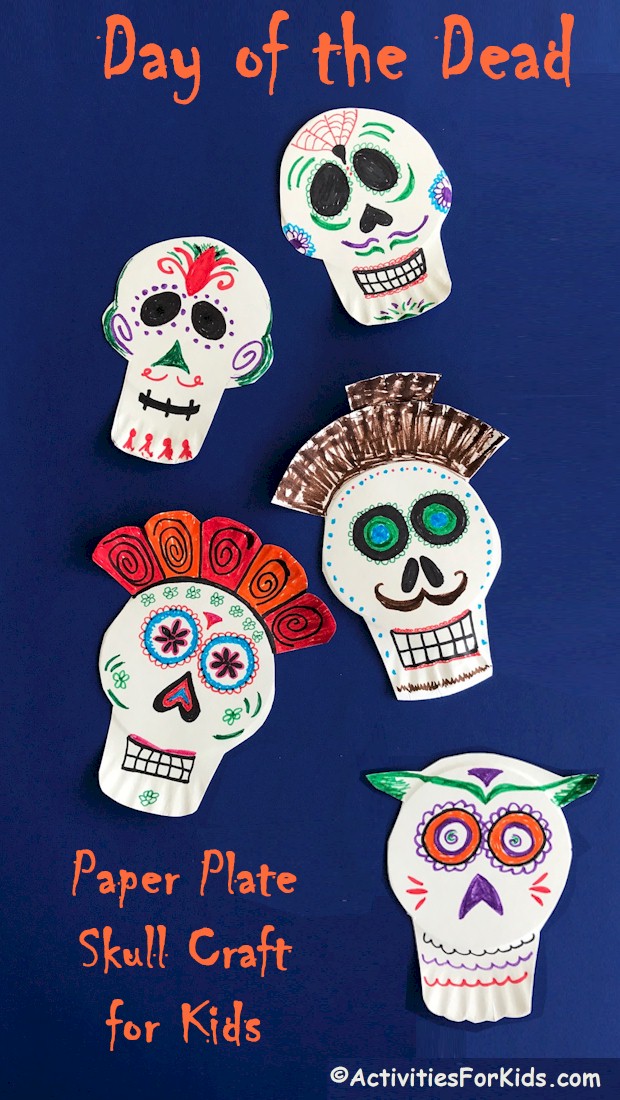 This paper plate skull craft is easy and inexpensive, therefore perfect for a large group or classroom project. There are really no rules on creativity therefore this is simple enough for kids of all ages. Each design has a unique personality, so encourage children to be creative.
Dia de Los Muertos,
Day of the Dead
is celebrated celebrated each year from October 31 to November 2nd. The holiday originated in Mexico, where this is a celebration for family and friends to remember those who have died. One of the traditions of this holiday is to offer
Sugar Skulls
(Calavera) as a treat for children. It is this image of the sugar skull that is the most recognizable icon for the holiday, the white skull colorfully decorated often with images of flowers.
What You will need:
White paper plates – I used a small plate with a 6" diameter
Scissors
Colorful markers
How to make the Paper Plate Skull:
Start out by cutting out the shape of the skull. For younger children it might be best to create a few templates for children to follow. For the most part, it is simply cutting out the center circle of the paper plate but, leaving about 2-3" of the rim of the plate. Additional sections of the fluted edge of the paper plate can also be left on for a flower head-dress or hat.
Cover the workstation with newspaper for easy cleanup. Next, decorate the paper plate skull with the markers. I found that permanent markers work well for the blackened eyes and skull teeth. Also, for a little consistancy, either use a template or trace a small bottle or other circle item for the eyes.
The decorated paper plate skulls can be strung together for a classroom decoration or as a take-home item for the kids.
If you liked this Holiday Craft, please 'Like' Activities for Kids on Facebook and stay up -to-date on all the crafts and activities for kids.
Suggestions:
For a completed take home decoration, glue the decorated paper plate skull to a dark colored 7″ paper plate.