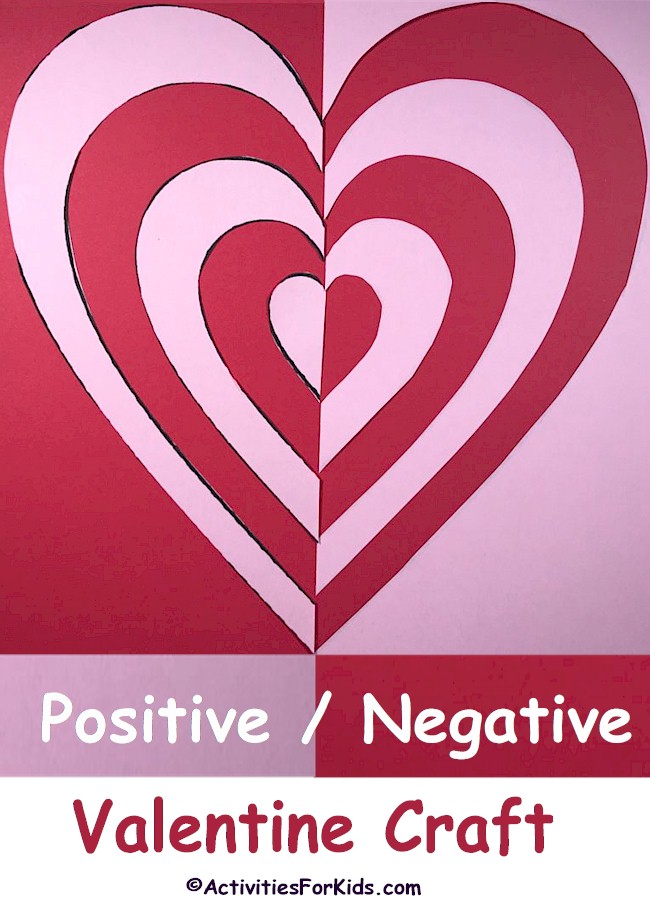 Opposites do attract with this Valentine Heart Printable of reverse images. There are two different printable templates included for this activity. Print out the larger heart template and cut it in half so that two children can make this Valentine Positive Negative art project. Another option is to use the small heart template,  with three half-hearts printing per page.
To get the full effect for the Valentine positive negative project, you will also need to use contrasting background from the printed heart template. In addition to being an art lesson in space, which includes the background, middle ground and foreground.  Positive and negative use of space also comes into play. Cut the hearts apart and then rearrange them on the opposite side for a new perspective of the same shapes.
This can be a creative and pretty art project for Valentine's Day. Here is a great lesson plan for the use of positive and negative space.
How to make the Valentine Heart Positive Negative Art:
If you are using the large heart template for a full page art project, print one page for two children.  Each child can then work with one half of the heart.
The smaller heart template is good for making Valentine Cards.
Which ever heart is chosen, have the children cut out the five hearts on the lines provided as can be seen in the example.
Once cut apart, place the main sheet over the solid, uncut piece of contrasting paper and glue in place.
Starting with the largest cut out heart shape, start gluing the hearts on opposite sides until all are glued in place.