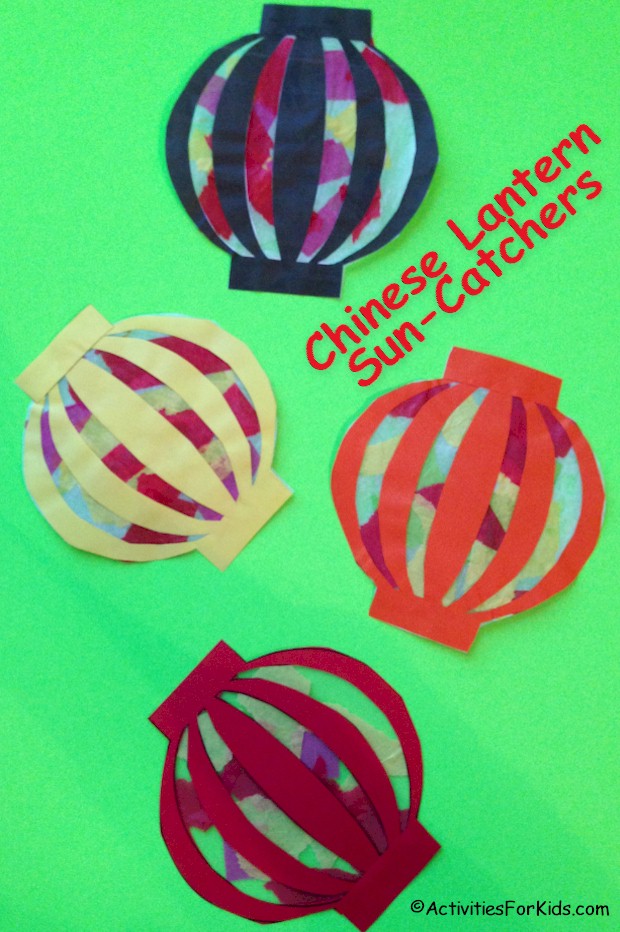 Something different to do for the Chinese New Year, these pretty sun catchers are perfect to decorate the classroom or hang in a window.  The Chinese Paper Lanterns Printable includes printouts for both the black lantern and an outline that can be printed directly on colorful printer paper. Clear contact paper can be used, but I found it was easier to use white tissue paper, diluted glue pieces of colorful tissue to make the 'lighted' interior of the lantern.
MATERIALS:
White printer paper for the black paper lantern
Colored printer paper for the outline of the paper lantern
Different colors of tissue paper.
White tissue paper
Craft glue diluted (half water, half glue) in a small bowl.
Medium width paint brush
Scissors
INSTRUCTIONS:
Select the black paper lantern or outline of the paper lantern. Note: the black paper lantern will use additional black ink to print. Two lanterns print per page.
Cut the lanterns out. On the outline template, cut where notated. On the black lantern template, cut out the white sections. Start at the bottom of the lantern, this area can be cut apart since the base of the lantern will be glued on and cover this up. Cut out the rectangle piece that is to be used as the base of the lantern.
Cut a section of white tissue that is the same size as the lantern. You don't need to measure exactly since you will be re-cutting the piece later on.
Tear up or cut up small strips of the colorful tissue paper.
Lightly brush the white tissue paper with the watered down glue mixture and randomly adhere the colorful pieces of tissue paper scraps.
Before the glue dries, attach the paper lantern over the top of the tissue paper.
Apply a little extra glue to the bottom of the lantern and attach at the base.
Once dry, trim the tissue paper so that it is the same size as the Chinese Paper Lantern.