Are you looking for some simple pre-school crafts to celebrate the Chinese New Year? Here is an easy classroom project for children that they will love putting together. A Chinese Drum with a few modifications, is similar to a tambourine. Keep the costs down by using red and gold Mardi Gras beads attached to a paper plate. Older children can decorate with the drum with a Chinese symbol for Good Luck.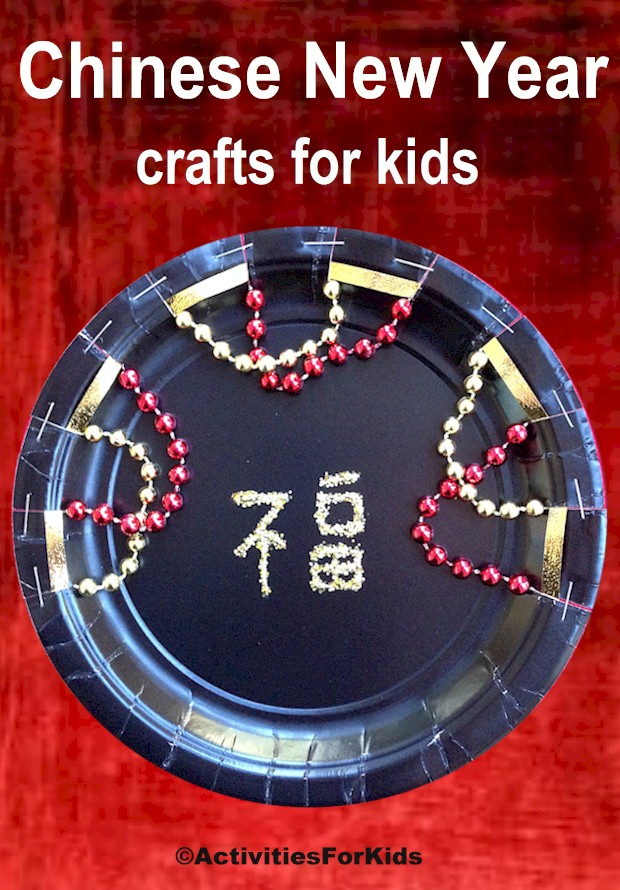 Supplies You Will Need
Stapler
Scissors
Paper plate
Mardi Gras beads
Ribbon
Craft glue
Gold glitter
Chinese Drum Instructions
Start with a small to medium sized black paper plate. Other options might be to use a red or gold plate, to emphasize the Chinese colors.
Next, cut 12 – 1″ snips along the outer edge of the plate as shown. These snips should be about an inch apart and only on one-half of the paper plate.
Use a selection of Mardi Gras beads in either red or gold. It would depend on the size of the plate used, but for a 7″ plate, I cut three sections of beads from each color with 12 beads for each section.
Slide the string between the first and second beads from one of the cut sections into the first snipped section on the paper plate. The one bead should be on the back of the paper plate, with the other eleven beads towards the front.
Skipping over the next snip in the paper plate, loop up the same cut section of beads to the third snipped section of the paper plate sliding in the thread so that one bead stays on the back of the paper plate.
Repeat this with the rest of the beads, alternating colors.
Once all the beads are in place, thread a ribbon through the snipped sections of the paper plate. This optional step will help the beads stay in place longer and give a nice finished look.
Staple the snipped sections of paper plate together so that the beads and ribbon will stay in place.
Older children can add the symbols for Good Luck with the craft glue then adding the gold glitter. Lay flat and allow to dry completely.
I hope your children enjoyed this Chinese New Year craft. For more ideas be sure to follow us on Twitter, Facebook and Pinterest.