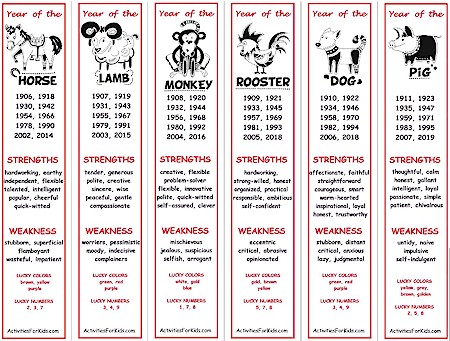 Celebrate the Chinese New Year on February 5, 2019 with the
Year of the Pig
.
The Chinese New Year usually starts in January or February of our calendar year. There are 12 different animals that are represented in the Chinese Zodiac. In Chinese astrology, the animal symbols are assigned to a year with the idea that if you are born within that year you will have characteristics of the animal represented.These printable Chinese Zodiac bookmarks for kids print 6 per page. You can select the same zodiac symbol for all six bookmarks or select six different ones to print. Each bookmark contains a list of years for each symbol along with strength, weakness and lucky numbers that are associated with the symbol.
Read more about the
Origins of the Chinese Zodiac
.
INSTRUCTIONS:
Select the Zodiac sign that you would like to print:
Rat, Ox, Tiger, Rabbit, Dragon, Snake, (print all 6, one of each)
Horse, Lamb, Monkey, Rooster, Dog, Pig, (print all 6, one of each)
Chinese Zodiac Bookmarks will print six per page.
The designs show up best on white paper. Heavier paper or card stock paper will work the best.
Once printed, but the bookmarks apart on the gray line. You can print as many pages as needed.
Cut the bookmarks apart on the gray line.