A fun craft for friends to put together for Valentine's Day, Friendship Day, birthday parties or any special occasion. Create one chain for the group or one for each of the friends. This is a great activity for a birthday party where all the attendees can write a special note to the birthday girl or boy.
MATERIALS:
Scissors
Stapler
Colorful craft or scrapbook paper
Ruler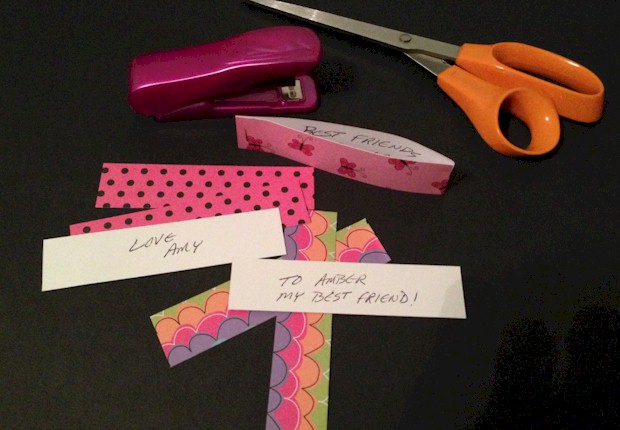 INSTRUCTIONS:
Each child cuts out 2 strips of colorful paper – for this example, I used 1″ wide by 5″ long for each. Sign one of the papers and put a special note on the other paper.
For the first heart on the friendship chain, put the right (decorated sides) together and staple about a quarter inch from the edge. This will form the top part of the heart.
Bring the free ends of the paper down and around to form the bottom of the heart. Before stapling together, add the next section of paper strips putting right sides together with the first heart, then staple the four papers together.
Continue this until all the hearts are put together.