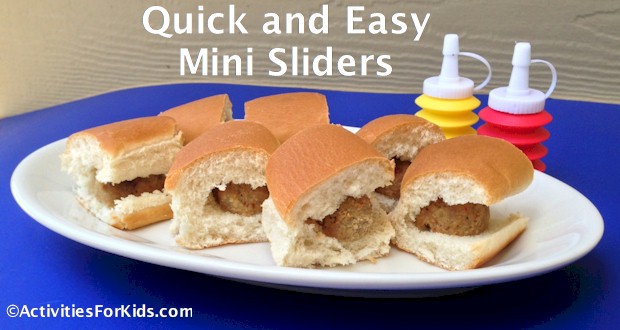 Quick and easy party food for kids.
Put these mini meatball sliders together in a matter of minutes and you are ready to feed a hungry crowd.
INGREDIENTS:
Hotdog buns
Precooked meatballs
INSTRUCTIONS:
Microwave the meatballs according to directions.
Cut each hotdog bun in thirds. You can cut off the rounded ends so that they are all consistent in shape.
Cut the meatballs in half and place each half inside one of the sections of hotdog bun.
Serve warm with a side of ketchup and mustard.
SUGGESTIONS:
So that the rounded meatballs fit more securely in the bun, remove some of the inside breading from the top bun.
Before cutting the hotdog buns, line with a slice of cheese and broil for a minute or until melted, then cut apart and add the cut meatballs.