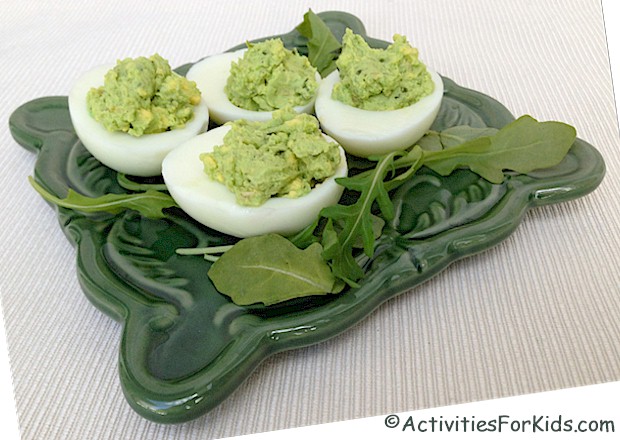 An alternative to the traditional deviled eggs – add a little pesto for a fun twist. Pesto Deviled Eggs are a good way to prepare all of those leftover Easter Eggs, or a way to put a little green on the plate for St. Patrick's Day. Add a little ham to the meal for Green Eggs and Ham.
INGREDIENTS:
6 Hard boiled eggs
2 T Prepared pesto
2 T Mayonnaise
INSTRUCTIONS:
Cut the hard boiled eggs in half.
Carefully scoop out the yolk and place in a mixing bowl. Place the egg white on a plate.
Add the prepared pesto and mayonnaise to the egg yolks.
Mash the egg yolks with a fork and stir together with the pesto and mayonnaise.
Use a teaspoon to add the pesto mixture back into the hallowed out egg white.
Refrigerate any leftovers.