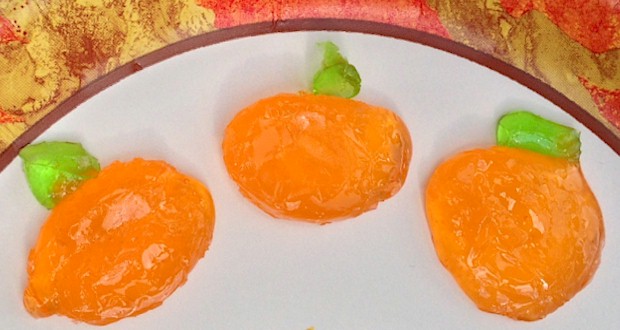 You can easily make these little decorative candy lifesaver pumpkins with any hard candy in green and orange. Cute way to decorate plain cupcakes for Halloween or Thanksgiving.
INGREDIENTS:
Orange and green Lifesavers or other round hard candy
Tin foil
Cookie sheet
INSTRUCTIONS:
Turn the oven on to 300F.
Cover the cookie sheet with tin foil.
Place the green candy in a baggie and crush up using the bottom of a heavy glass or rolling pin. Pieces should just be broken into pieces – not crushed to a powder.
Place the orange candies on the foil lined cookie sheet and place a green 'stem' beside them. The green candy piece should be close enough to tough the orange candy.
Bake for 5-8 minutes or until melted and orange and green pieces are attached.
Allow to cool completely before removing from the foil.