This is the the very first post that I created for free, printable blank checks (cheques) and check register for children. It contains a simple printout that is a great educational tool for helping to teach children how to write checks. Once checks are written, they can then record the checks and amounts in a check register. You can use these printouts for a classroom lesson plan on banking and check writing. Parents can also use the blank checks in with a home allowance bank. All you need to do is select the Printable Blank Checks or Check Register using the links below.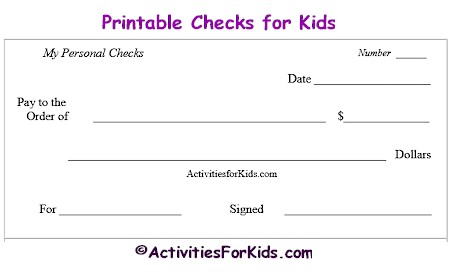 Taking this popular post a step further, I have created a post that can create personalized checks for your children. For personalized checks, you can select the New Blank Checks Template and customize play checks for your children. Simply select an image, child's name and pretend bank name.
How to Print Blank Checks and Check Register
Start by selecting the Blank Printable Checks PDF option. Print as many pages as needed. Three blank checks will print per page and it is best to use plain white printer paper.
Cut the checks apart on the solid line. You can create a booklet for the checks by leaving extra room on the left side of the check. Gather the checks and staple them together using this extra space.
Select Printable Check Register PDF option and again, print as many pages as needed for your project.
Other Suggestions For Using These Printouts
Use printable play checks and check register to set up a classroom bank. Or, to teach children about banking at home.
For a home bank, treat the child's allowance as a direct deposit into the account. Children can then write mom or dad a check when they need cash or to pay back for purchased items.
Printable play checks and check register can teach children to record and document their spending while learning the basics of banking.
Practical math applications include money, banking and finances. Teaching students learn to write checks and balance a check book encourages the management of debit while promoting the concept of savings. These free printable checks and check register are helpful classroom tools for teaching banking basics.