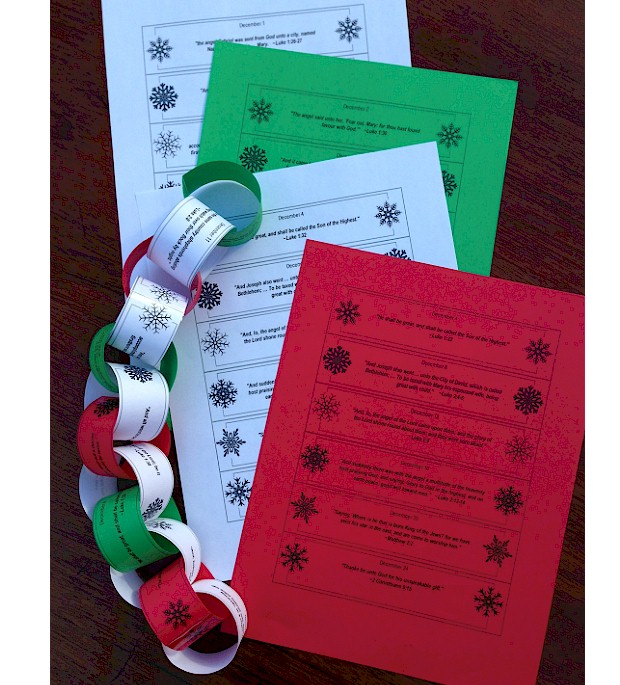 The tradition of telling the Christmas Story through the Advent Calendar is a family favorite for many. For something a little different this year, a DYI paper chain that is printed with 24 verses from the Bible. The printable is on 4 pages so that you can print different colors to make the chain. (page 1 includes December 1, 5, 9…, page 2 includes December 2,6, 10 and so on.) Use 2, 3 or 4 colors for this paper chain. In the above example pages 1 and 3 were printed on white paper. Page 2 was on green paper and page 4 was on red.
INSTRUCTIONS:
Determine color combination that you would like to use for the paper chain and add the paper to your printer in that order.
Select the pre-printed Advent Calendar paper chain – printable pages for page 1, page 2, page 3, page 4
Print the paper rings and cut them apart.
For 24 days beginning on December 1st, read the bible verse and add to the paper chain. The ends of the paper loop can either be stapled or taped.
More:
The verses used for this Advent Calendar are as follows:
December 1
"the angel Gabriel was sent from God unto a city, named Nazareth …. ~Luke 1:26-27
December 2
"The angel said unto her, 'Fear not, Mary: for thou hast found ….'" ~Luke 1:30
December 3
"And, behold, thou shalt … bring forth a son, and shalt call …. ~Luke 1:31
December 4
"He shall be great, and shall be called the Son of the Highest." ~Luke 1:32
December 5"And Mary said, Behold the handmaid of …." ~Luke 1:38
December 6
"And it came to pass in those days, that there went out a …." ~Luke 2:1
December 7
"And all went to be taxed, every one into his own city." ~Luke 2:3
December 8
"And Joseph also went … unto the City of David, which is …." ~Luke 2:4-5
December 9
"And so it was, that, while they were there, the days were …." ~Luke 2:6-7
December 10
"and laid him in a manger; because there was no room for them …." ~Luke 2:7
December 11
"And there were in the same country shepherds abiding in the field….." ~Luke 2:8
December 12
"And, lo, the angel of the Lord came upon them, and the glory of the …." ~Luke 2:9
December 13
"And the angel said unto them, Fear not: for, behold, I bring you …." ~Luke 2:10
December 14
"For unto you is born this day in the city of David a Savior, …." ~Luke 2:11
December 15
"And this shall be a sign unto you; Ye shall find the babe …." ~Luke 2:12
December 16
"And suddenly there was with the angel a multitude of the heavenly …." ~Luke 2:13-14
December 17
"And [the shepherds] came with haste, and found Mary, and Joseph, …." ~Luke 2:16
December 18
"O come, let us worship and bow down: let us kneel before the LORD our …." ~Psalm 95:6-7
December 19
"Now when Jesus was born in Bethlehem of Judæa in the days of …." ~Matthew 2:1
December 20
"Saying, Where is he that is born King of the Jews? for we have …." ~Matthew 2:2
December 21
"And when they were come into the house, they saw the young child with …." ~Matthew 2:11
December 22
"and when they had opened their treasures, they presented unto him gifts; …." ~Matthew 2:11
December 23
"For God so loved the world, that he gave his only begotten Son, that …." ~John 3:16
December 24
"Thanks be unto God for his unspeakable gift." ~2 Corinthians 9:15
SUGGESTIONS:
Use the paper chain to decorate the Christmas tree.