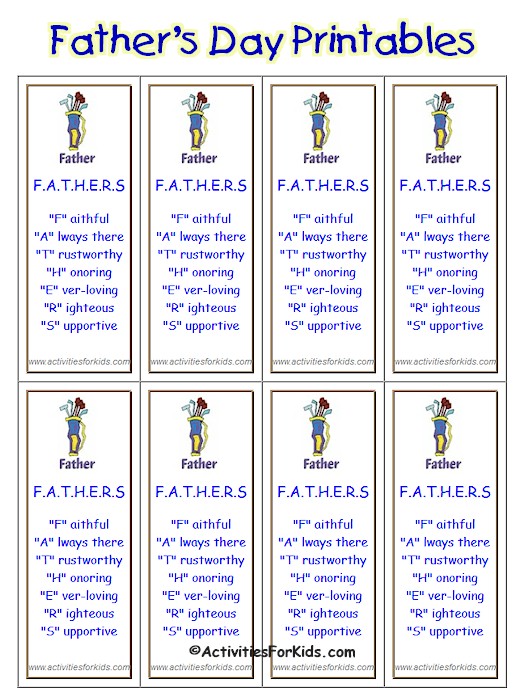 Select a short poem or saying for your Father's Day Bookmarks for your class or group. You can enter up to 8 lines of text on the full color Bookmarks which print 8 per page. There are several Father's Day images that you can choose from and then select a coordinating color for the font and border. For best results use card stock paper for printing the bookmarks. The first line will print in a larger font.   It is easy to preview the bookmarks before printing – just press the back button to return to the page with your information.
INSTRUCTIONS:
Go to the Custom Holiday Bookmarks for Kids page and follow the online instructions.  Select an image for Father's Day.
Print as many of the bookmarks as you need for your classroom
Have the children cut the bookmarks apart.
SUGGESTIONS:
Use the bookmarks as Father's Day gift tag. Children can write 'To' and 'From' on the back of the card.
For each line, type a row of dashes or use the underscore key to create lines that the children can use to write a special message to their dad.  Note: the line shouldn't be longer than about 12 characters long, else one bookmark will be cut off for overflow.
Teachers can use this as a creative way to give out spelling words for the week.